Our Favorite Products for Realtors
Toddy Twist Cable and Cord Organizer

Toddy Twist is the latest development in cable organization products. It's flexible and organizes multiple cables and cords at once. Simply wrap the Toddy Twist around the cables and done! Providing the convenience of organizing virtually any cable or cord, it features a full-color digital imprint the entire length, on both sides of the Toddy Twist and an expanded imprint on the ends. Branding has never been this organized!



Silver Line Specialties | Marietta, GA
Some Great Ideas For Promotional Products Include:


Promoting branch openings

Introducing new products

Motivating salespeople

Opening new accounts

Stimulating sales meetings

Developing trade show traffic

Activating inactive accounts

Changing names of products/companies
Using sales aids as door openers

Motivating consumers

Moving products at dealer level

Improving customer relations

Introducing new salespeople

Motivating employees

Promoting new facilities

Building an image
Featured Item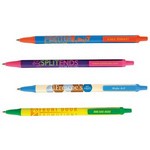 BIC® Clic Stic® Pen
Always in stock. Over 600 possible color combinations. Break resistant pocket clip. Most popular retractable in promotional products! For multi color imprints on clear barrels the imprint area is 1 7/...
$0.57 - $0.78
Featured Blogs
Now, more than ever before, people are focused on enriching their lives with healthy habits and wellbeing practices. In fact, the health & wellness industry has seen exponential growths over the p...

In the past, the words "work" and "fun" were two very different concepts that could never be caught in the same sentence. The old school rationale taught us that if you are enj...
What Our Customers Are Saying

Bonnie did a great job with helping me find the right gift for a Business EXPO. She was very clear on timing and making sure that I got the right items when I needed them.